Mission Critical Technologies Remote Monitoring Services   
Failure or disruption of your systems results in serious impacts on business operations – avoiding even the possibility of this is not only your priority, it's ours. Our mission critical technology clients rely on our remote monitoring services to stop problems before they start. When technology system issues are detected, our Remote Smart team provides as-needed trouble shooting in real-time for our clients.
During a needs assessment, our experts will review your concerns and challenges and develop a remote monitoring approach tailored to your needs. We also show you how our approaches can optimize your technology, ensure uptime and identify any hardware or software concerns.
Offering:
Remote Response Services
Our Remote Response Services bundle is the perfect option for those seeking a reactive problem resolution approach. Remote Smart will provide remote support for your technology system components using a secure VPN tunnel, or a secure direct connection, which allows our engineers to gain access to your network and provide a high-level of diagnostic support. Having remote connectivity allows our support center to have the proper access to your network in the case of a network incident or outage. In most cases, incidents can be identified and resolved through remote diagnostics, reducing your overall downtime.
Incident Management
Specific Device Support
Remote troubleshooting for infrastructure that supports security and healthcare communications systems, including:
Servers
Network devices
RTLS tags
Point-to-point microwave links
Battery backup (e.g., for RTLS and UPS)
Proactive Monitoring Services
If you're looking for a more holistic approach, our managed services bundle offers complete insight into your systems. This proactive approach provides you peace of mind knowing that Remote Smart is notified of potential incidents before problems arise. We work to continuously improve the health of your systems over time.
Monitoring
Reporting
Specific Device Support
Incident Management
Remote monitoring for supporting technology infrastructure including:
Network devices
Servers
RTLS tags
Point-to-point microwave links
Battery health (e.g., for RTLS and UPS)
Remote Smart provides the most secure and compliant remote support to our clients via our stringent remote access protocol.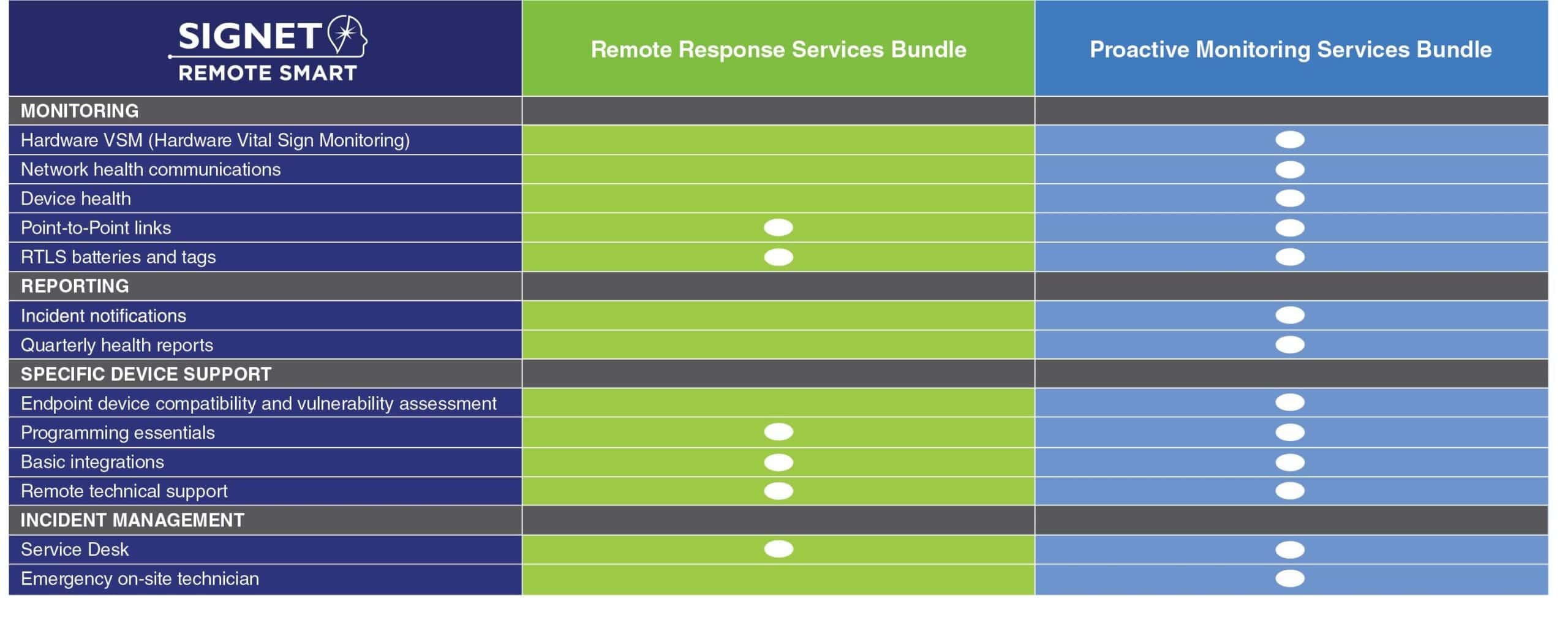 Don't Be Shy
Drop us a line anytime, and one of our customer service reps will respond to you as soon as possible