SERVICE PROVIDERS

Managed Service Provider Upnine Partners With Integrators for Enterprise-Level Service
Boston-based Upnine is a national comprehensive managed service company with programs designed for mission-critical integrated physical security, networking, IoT and edge technology and wireless connectivity platforms for end users to stay on top of system health and prevent problems before they happen.
Launched in November 2022 by Founder Brad Caron and Co-Founder Bill Savage, Upnine works with security integrators to deliver these services to their customers and increase their RMR. The company has customers in California, Seattle, the East Coast and the U.K., and runs a pilot program with Norwell, Mass.-based integrator Signet Electronic Systems Inc. to service its enterprise-scale customers. These include large municipalities, hospital networks with multiple locations and transportation companies like Amtrak.
Savage has been on the manufacturing side of the security business for 25 years, starting at Pelco, where he built out the company's technical support group and developed new tech strategies as the company transitioned from analog to digital manufacturing. Later, at AMAG Technology, he served as executive vice president of its tech and professional services group for the U.S. He recently hired industry veteran Bob Ryan, formerly of video-based surveillance provider DTiQ, as senior sales executive.
The rise of DIY security systems and services has put a crimp on integrators' revenue, and using service providers like Upnine helps integrators retain a competitive edge, Savage said. "The poor integrator is getting eroded in all different directions: manufacturers are trying to go direct, big contractors are taking on cabling because the DIY is simple, and slowly integrators are being forced out revenue-wise," he said. "Signet has seen value in filling the gap as others try to erode it from them."
Most of Signet's clients have a physically large geographic coverage area, for network as well as the devices on that network, said Andrew Pelletier, executive vice president at Signet. During the pandemic, Signet realized it needed to be more proactive on reporting on how its clients' security systems were functioning. "As the integrator market has been doing for a while, we were looking at the IT market, where most solutions converged on a network," he said. "We thought providing managed services would be a good sweet spot for our clients. … We were looking for partners, and our relationship with Upnine started and bloomed from there."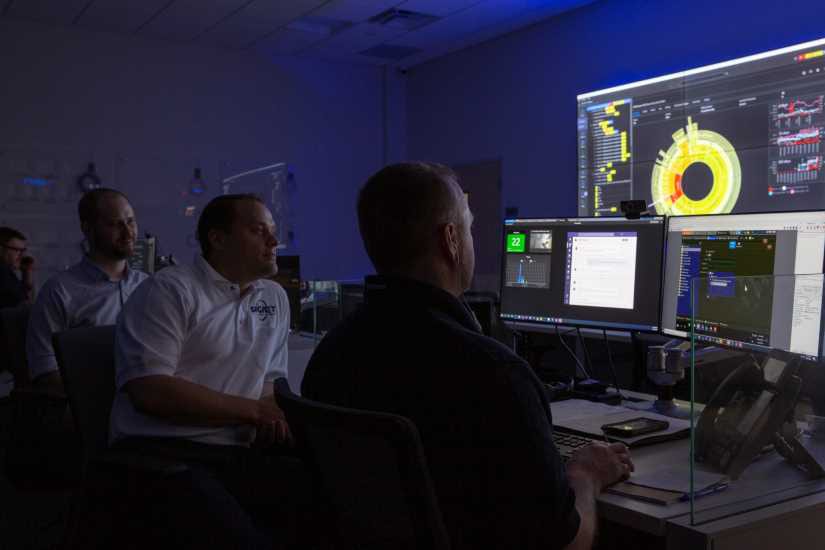 For the past six months, Signet has used Upnine's managed services for several of its clients. "So far it's been a big success, being able to write a monthly report with device and system uptime, tickets taken care of, and more," Pelletier said. "It's already made a huge impact."
Using Upnine enables integrators to provide their largest customers with a range of services they wouldn't normally be able to offer without hiring expensive IT personnel, Savage said. "With large entities, it's impossible for them to manage, so we do professional services on preprogramming, health checks on all systems, and help with IP schemas, and we do it all remotely. The installation guy racks it up, and we test it and monitor it."
Upnine draws up an on-site agreement with the customer, but actually partners with Signet to provide the services under a Signet-branded service. "It's their customer; we fortify everything, we fix the problems, and it saves them the four-hour window time of driving there, disrupting business, and cuts down on their service time," Savage said. Integrators can realize a 30 to 50 percent annual reduction on truck rolls by using Upnine's services, he added.
"We have our own customers as well and have worked with other integrators to provision health checks before they go in and do a service agreement," Savage said. "It's a sales tool for the integrator."
Integrators using Upnine can upsell or upgrade the services to their customers, whether they provide the service themselves or use Upnine. The company is ISO 27001-certified — which sets out best practices for an effective information security management system — and is increasingly popular in the bid world.
"One of biggest challenges in the integrator space is transitioning our classic technicians from screwdriver to keyboard," Pelletier said. Hiring ISO-certified technicians is expensive, especially when they're only called into service when things get really challenging. Being able to provide this level of service bars entry into the managed services area for many integrators, he said. "Upnine offers staff augmentation to offer managed services to clients without the level of complexity and barrier to entry," he added. "It really is a very unique value proposition they present to integrators and clients."
Upnine has already reached out to several large integrators about offering its services to their customers, Savage said. "We're targeting the larger integrators because their installations are larger so the pricing for monitoring works two ways: it gives them another revenue source, and operationally, makes them very effective by reducing truck rolls or hiring personnel with the level of certification needed to support these installations."— By Laura Mazzuca Toops, SDM contributing writer //
 Source: https://digitaledition.sdmmag.com/may-2023/tech-solutions/?utm_content=248072497&utm_medium=social&utm_source=linkedin&hss_channel=lcp-1917108