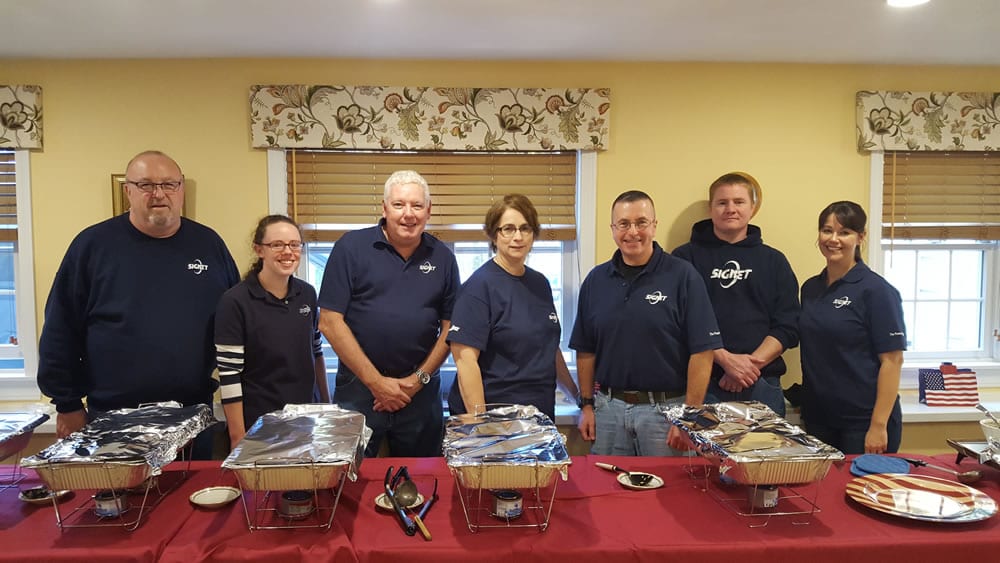 November 2016: A team of SIGNET employees had an opportunity to volunteer at the Norwell Council on Aging (NCOA), by hosting a luncheon on behalf of our local Veterans. Our team consisted of Denise O'Keefe, Sarah LePain, Courtney Matos, Matt Harkins, Mark Danckert, John Hopbell, and Paul Austin. Upon our arrival, we met with several NCOA staff members, including the Director, Susan Curtin, who helped to coordinate our responsibilities and guide our setup tasks.
Denise, Sarah, Courtney, Mark, and Kelly were kind enough to prepare the food in advance for the buffet – which consisted of Chicken Marsala, Rice Pilaf, Mashed Potatoes, and a dessert of Strawberry Shortcake. By all accounts, the food was delicious, and there were plenty of healthy appetites in evidence! The luncheon was well attended, with approximately 50 veterans enjoying the gathering. All branches of service were represented at the event, and Veterans ranged all the way from WWII though our present-day conflicts in the Middle East and Afghanistan. It was truly an honor to meet and offer our support and thanks to these brave Men and Women who served our Country in time of need.
The NCOA Staff were very nice and welcoming to us, and it was a pleasure to assist them in their efforts to serve our Veterans. Our team is especially appreciative of the ongoing support of Barbara and Brad Caron, whose long-term commitment to charity and volunteerism, allowed us the opportunity to give back to our community in this manner.