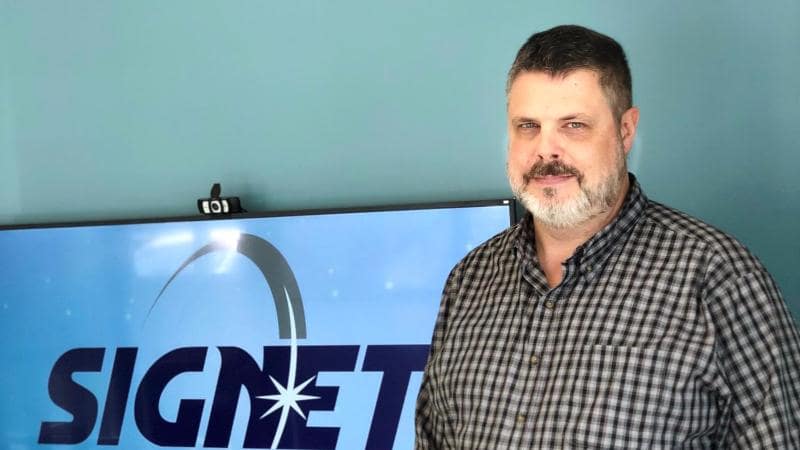 Steve
Senior Project Manager
Headquarters, Norwell, MA
Courage and collaboration. Yes, they are two of SIGNET's values. They also happen to be a consistent theme throughout Senior Project Manager Steve Bond's career.
Before arriving at SIGNET, one of Steve's early career roles included serving in the U.S. Marine Corps (the Corps) for 12 years. Serving in telecommunications and as a Marine Security Guard at American Embassies, he was stationed in France, Malaysia and Japan which also enabled him to travel extensively throughout Europe and Asia.
Steve was in the inactive reserves at the time of the events of 9/11. He received notice from the Corps that any inactive reservist who wanted to be put back on active duty could do so simply by making the request, which Steve did. He served an additional seven months of active duty before completing his Marine Corps career.
Upon reentering civilian life, becoming involved in the security industry was a natural progression from his time in diplomatic security. He spent six years in management for a contract security company before transitioning into security project management with local and international integrators.
In his relatively short tenure with SIGNET, Steve is enjoying the challenge of his senior project manager role. His role involves managing the operational aspects of approved and booked projects, including coordination of material ordering, billing management, installation schedules and communications with the client.
Steve's role at SIGNET allows him to collaborate with coworkers and build relationships with clients. "I left a large international run company for a family-owned company, and I could not be happier. I love the atmosphere and the idea that everyone is willing to help," said Steve.