Designing state-of-the-art security solutions for new multi-tenant building in Boston's Seaport District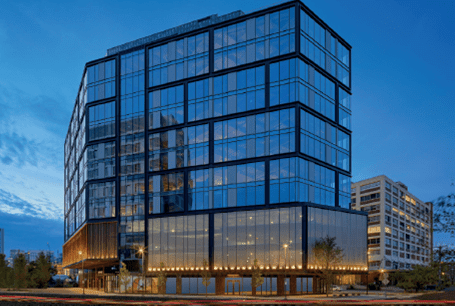 Located within the Seaport Innovation District, the newly constructed Two Drydock in Boston is anchored in a neighborhood steeped in industrial tradition. Architectural firm SGA and consultant WSP collaborated on this new 13-story, nearly 300,000 square foot office multi-use building exuding an authentic industrial look while also featuring ground-level boutique retail and microbrewery, and a swanky rooftop terrace that boasts a fitness center.
To attract high-end tenants to this multi-tenant building, the owners and developers of Two Drydock sought to offer the best in technology and security. As a result, SIGNET was tapped to provide security technology expertise.

Challenge
Because Two Drydock was envisioned as an intelligent facility with seamless integration between a variety of systems, Skanska, the developer of Two Drydock, required that WSP and SIGNET provide a solution that enabled tenants and visitors to move about the building with ease while maintaining a high level of security. Skanska was looking for a more effective front security desk program to make the lobby staff more efficient. Although this project was designed and planned before the COVID-19 pandemic, Skanska wanted a solution that provided contactless access control for both tenants and guests from the parking garage using LPR camera technology, as well as from the front entrance with contactless turnstiles using either BLE technology or QR codes for guests. The turnstiles also needed to be integrated with the elevator destination dispatch system. And, because neither Bluetooth nor QR scanners could be mounted into the destination dispatch devices, the design team needed to integrate separate readers adjacent to the elevator call buttons and similarly at the garage access control points.
The un-anchored security staff, needed to operate with a trusted, fully functional security solution that would also allow for a free flow of people. As a smart building, the users' mobile app credentials would have to be tied into the overall visitor management system in one application.
"SIGNET was tasked with taking Skanska's vision and WSP's design of a smart integrated building and turning it into a reality," notes Jason Bianco, Senior Account Executive at SIGNET Electronic Systems. "To this end, the appropriate technology and software that supports custom integrations through a simple and reliable interface was selected."
Solutions
"SIGNET chose the Automatic Systems SlimLane EPR (Extended Post Rounded) swing door barrier optical speed lane due to both its incredible aesthetic appeal and the degree of responsiveness and customization it offered. This, combined with the UL-2593 listings and five-year warranty, made it the obvious choice," Bianco adds.
"It was very important that the turnstiles remain slim while also providing IP capability and accommodating different card readers in addition to the information that was being provided through the Schindler Elevator Destination Dispatch (EDD) System. This led to the EDD Displays being integrated directly into the turnstile tops with the help of some additional customization work by Automatic Systems. The custom app integrates EDD/Barcode readers, cloud-based visitor management system, and smart parking solutions; providing the security and convenience that Two Drydock was seeking.
In addition, the cloud-based visitor management system allows for remote management of visitors and vendors, allowing for maximum efficiency and reduced overhead for tenants and building management. The elevator ports in the lobbies also have contactless capabilities for floor selection which has proven to be a pandemic countering solution."
Two Drydock is 100% card-less. When tenants present their credential, the dispatch automatically directs them to the appropriate floor. They are able to utilize either their phone with a Bluetooth credential, a QR code printed out at the security desk, or a QR code sent through a cloud hosted visitor management system. Visitors also enjoy a high level of convenient, yet secure access. Tenants can self-enroll their approved visitors who then receive a detailed instruction set, as well as a unique QR code sent to their phone.
The developer, architectural team and tenants are all extremely satisfied with the technology solutions. The structure stands as a beacon in this revitalized district and is setting a standard for future development in Boston.