Nurse Call System Training
Access the nurse call system training you need – where and when you want it.
On-demand e-learning Approach for Nurse Call System Clinical Training
As healthcare technology experts, we know training and supporting staff on how best to leverage your new healthcare communications technology is key to a successful implementation. To that end, we've developed a web-hosted, enterprise-grade learning management system, named SIGNET University, for on-demand clinical training.
With the flexibility and practicality of on-demand e-learning, your clinical team members only require access to a computer or a mobile phone to complete their training – which they can do at any time or place convenient for them.
Our professionally created training courses feature images of pertinent healthcare communications system technology components with a narrator describing each scenario, providing needed details.
SIGNET's web-based training process is seamless:
Participant enrolls in SIGNET University
Participant is assigned guided training modules focused on hardware, devices, general system use and clinical workflows (curated from our library of modules to meet your organization's needs)
Participant completes course(s) and receives certificate.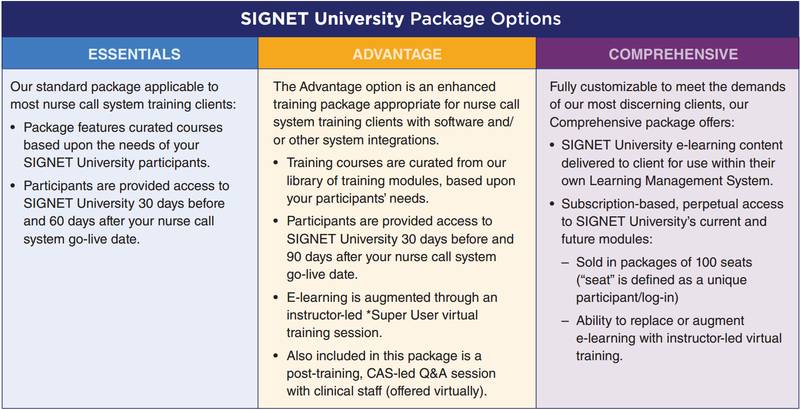 *Super Users:
pre-appointed by clinical leadership, these individuals receive in-depth training to become subject matter experts and relay learned information within the facility as needed; recommended as an internal support across all shifts, but most particularly leveraged for training and support of third shift and weekend staff.
Course specifics
SIGNET's Nurse Call training helps you optimize your Rauland platform to enhance both the patient and caregiver experience. Our current e-learning suite includes Responder 5 and Responder 5000 hardware, phone console and Software: Staff Assignment training.
Responder 5 and 5000 Hardware Modules
Customized to your facility's Responder 5 or Responder 5000 system configuration, these education modules review the hardware components that facilitate patient and staff communications. Topics covered include patient room components (ex: call cords and pillow speakers), corridor devices (ex: dome lights and duty stations) and the nurses' station* (ex: annunciator panel).
*The Responder 5 phone console hardware device is covered in a separate e-learning module.
Responder Phone Console Module
This e-learning module focuses on the Responder 5 VOIP Phone Console device. In addition to reviewing basic functionality (ex: answering calls, calling into a room), this module also covers the call workflow button functions that have been customized for your facility's Responder system hardware and configuration (paging staff, setting bed priority).
Responder Software: Staff Assignments Module
This e-learning module reviews how to create a standard staff assignment for an incoming shift in the Responder application. Topics covered include clearing assignments, creating future assignments and assigning wireless devices to staff.


RTLS Technology Study:
Measuring and Improving Hand Hygiene Compliance Rates at Three Hospitals
Get the white paper
Don't Be Shy
Drop us a line anytime, and one of our customer service reps will respond to you as soon as possible