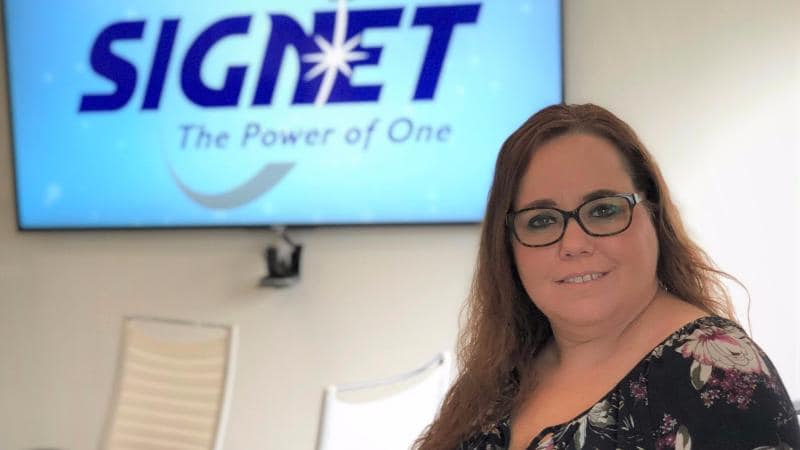 Lisa
Project Manager
Headquarters, Norwell, MA
"Each day is different and that is one aspect I definitely love about my job."
For SIGNET Project Manager Lisa Joslyn, multi-tasking and reprioritizing is second nature. When you're responsible for managing more than 80 projects at a time, it kind of has to be. "Each day is different and that is one aspect I definitely love about my job," said Lisa.
As a project manager, Lisa is the primary contact with the client after it leaves the sales department. Her role involves reviewing the project's scope, contacting the client with any questions, scheduling technicians, ordering needed equipment and scheduling any system training (particularly for healthcare clients where we've installed nurse call systems).
Lisa is mainly managing healthcare communications projects, which involves being in close contact with facilities management staff. Specific projects include new installations of nurse call systems or technology upgrade aspects of existing systems. And within these projects, SIGNET's role varies. It could be either turnkey (where we provide a new device along with cable installation, programming and training), splice and device (where we are typically working for an electrical contractor who will pull in the cable and we are responsible for devicing, programming and testing), or final connect, where the electrical contractor only hires us to program and test a device that they've installed.
Lisa has been with SIGNET 17 years, but not always in a project manager role. "I started out as a contract manager and after a couple of years, Brad asked me if I wanted to move over to project management. I'm happy I agreed – this place has become my second home," said Lisa, who enjoys being a 'go-to' resource for her colleagues.