Integrated Security Remote Monitoring Services
SIGNET's Remote Smart managed services team provides both remote monitoring and remote troubleshooting to vital security system technology – often proactively addressing technology issues prior to their development into a system failure. Proactive monitoring and analysis that anticipates and pre-empts technology incidents is key to ensuring your critical security systems are continually operational. By identifying trends within both network and technology system data that are the likely cause of degradations, the SIGNET Remote Smart team prevents system incidents and downtime.
Our Remote Smart experts:
Monitor, troubleshoot and/or repair security technology including video management, access control, intrusion and shooter detection systems.

Specific camera and IP-based device monitoring details for access point, controllers, intrusion panel and simple IP devices include checking device operation and connection to appliance
For VMS Genetec recording applications and access control applications, the team monitors operability and provides remote technical support

Monitor, troubleshoot and/or repair network infrastructure as it relates to the SIGNET-integrated security solution
Monitor firewall, switches, wireless and Point-to-Point links
Monitor, troubleshoot and/or repair user and technical issues with security software, user management, and device configuration changes
Monitor and troubleshoot on-line status of security system equipment elements for both headend and field devices
Identify off-line, defective or system hardware
You'll receive the following benefits with our:
Remote Response Services
Specific Device Support

Programming essentials: assist with initial set-up of and provide ongoing programming support for technology devices (e.g., Genetec Security Center) and system integrations

Incident Management

Service Desk
Remote technical support of security devices
Proactive Monitoring Services
Managed Services/Monitoring

Hardware VSM (Hardware Vital Sign Monitoring): monitor device (e.g., security camera) hardware to prevent loss of network connections and prevent interruptions to critical services
Network health and communications: monitor network connections and infrastructure, resolving any service-impacting issues
Device health: monitor devices to achieve optimal performance of the applications and server, resolving any service-impacting issues
Point-to-Point links

Reporting

Incident notifications: alert clients of critical issues and provide corrective measures
Quarterly health reports

Specific Device Support

Programming essentials
Basic integrations
Remote technical support

Incident Management

Service Desk
Emergency on-site technician
Remote Smart provides the most secure and compliant remote support to our clients via our stringent remote access protocol.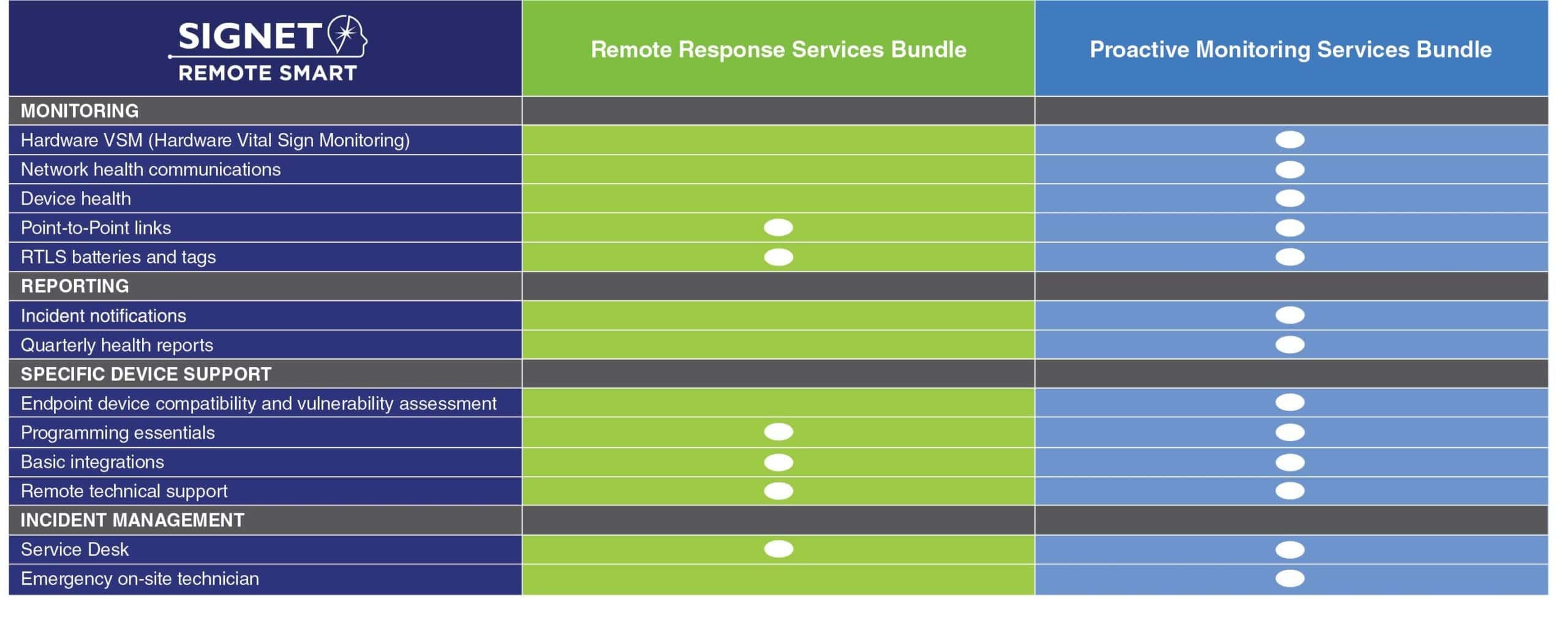 Don't Be Shy
Drop us a line anytime, and one of our customer service reps will respond to you as soon as possible