D. CRAIG MACCORMACK (October 2017) — "SIGNET VP Digs Dealing with Big, Complicated Projects," Commercial Integrator
Greg Sparrow knows he'll probably see some pretty complex and unusual proposals in his new role as VP of Transportation Solutions at SIGNET Electronic Solutions.
But it's likely no proposal and no job he oversees in his new position will be as complicated or highly scrutinized as the one on which he worked shortly after graduating from the University of Massachusetts about 25 years ago.
Sparrow worked as an intern, then communications engineer, for the Massachusetts Turnpike Authority when that agency was overseeing and constructing the Central Artery tunnel project that's better known as the "Big Dig," a $24 billion undertaking to make it faster and easier to get around Boston traffic.
While people will likely continue to debate the merits of that project, one thing is certain: there's never been a public construction project quite like it. Sparrow considers himself lucky to have had the opportunity to be part of the job, thanks to his longtime mentor Chuck Isherwood, who was an adjunct professor at UMass when Sparrow was a student and brought him to the Turnpike Authority as an intern.
Sparrow and his team designed and integrated a communications system that included fiber, IPTV cameras, signage and much more, all underground, meaning the connections had to be planned even more carefully and built with even more scrutiny.
He later moved on to a small integrator, Sesco, which was bought out by General Electric. Sparrow came to SIGNET about 10 years ago as Director of Systems Integration before becoming Director of Project Management then being elevated to his new role in August.
As VP of Transportation Solutions, Sparrow is now more intimately involved from inception to completion of a project in growing the transportation and building solutions, whereas he used to focus purely on executing someone else's vision.
"This role is about trying to be more strategic," says Sparrow, who led the 2015 inception of SIGNET'S transportation solutions department. "We believe there is tremendous growth opportunity for us in this particular space."
In January 2016, SIGNET was awarded the largest contract in the company's history, serving as the local communication systems integrator on a robust infrastructure improvement project for the Massachusetts Bay Transportation Authority (MBTA) Commuter Rail.
Since being awarded that contract, SIGNET's transportation team has expanded to include a project engineer, field engineer, project manager, production technician, and administrative support staff.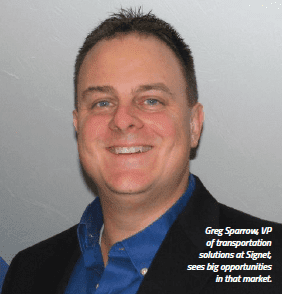 Let's go Back Stage and learn more about Greg Sparrow.
Commercial Integrator: How has working on the Big Dig helped you in your career? Greg Sparrow: The technology in that system was amazing. We were putting in systems to rebroadcast police communications, emergency transmissions, cell phones, and so much more. I was honored to have been a part of that.
CI: What do you see in the future for you, for SIGNET, and for the industry? GS: The future for us and the industry is in technology-based solutions… We see a lot of opportunity and potential in infrastructure, power, grid, and wastewater for things like security, video, and radio surveillance.
CI: Do you have any hobbies for when you're not working? GS: I've been coaching my daughters in some of their sports for a long time. I helped to start a flag football league that now has more than 500 kids in it. I like to golf, I like to ride motorcycles and go off-roading, but there's nothing like my woodworking shop, building some furniture, book shelves, things like that. You get really lost in there. You go in there, then you look up and it's six hours later.