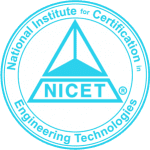 Featured in Systems Contractor News, November 2011
SIGNET Electronic Systems, Inc. is serious about Life Safety, so maintaining a team of truly qualified Life Safety professionals is essential. Through its formal certification incentive program whereby company employees are incentivized to earn and maintain credentials, SIGNET encourages its employees to become NICET certified professionals.
The National Institute for Certifications in Engineering Technologies (NICET) is a not-for-profit organization created by the National Society of Professional Engineers to serve the certification needs of the engineering technology community.
To date, a total of nine SIGNET employees have received the NICET certification that is associated with "Fire Alarms Systems." This particular program was designed for engineering technicians working in the fire alarm industry who engage in a combination of the following fire alarm systems activities: system layout (plan preparation), system equipment selection, system installation, system acceptance testing, system trouble- shooting, system servicing, and system sales. SIGNET employees currently hold the following levels of certification:
Level IV: Three SIGNET team members (Level 4 is the highest level of certification and very difficult to achieve.)
Level III: Three SIGNET team members
Level II: Two SIGNET team members
Level I: One SIGNET team member
To read more about the NICET certification program, visit the website at nicet.org.