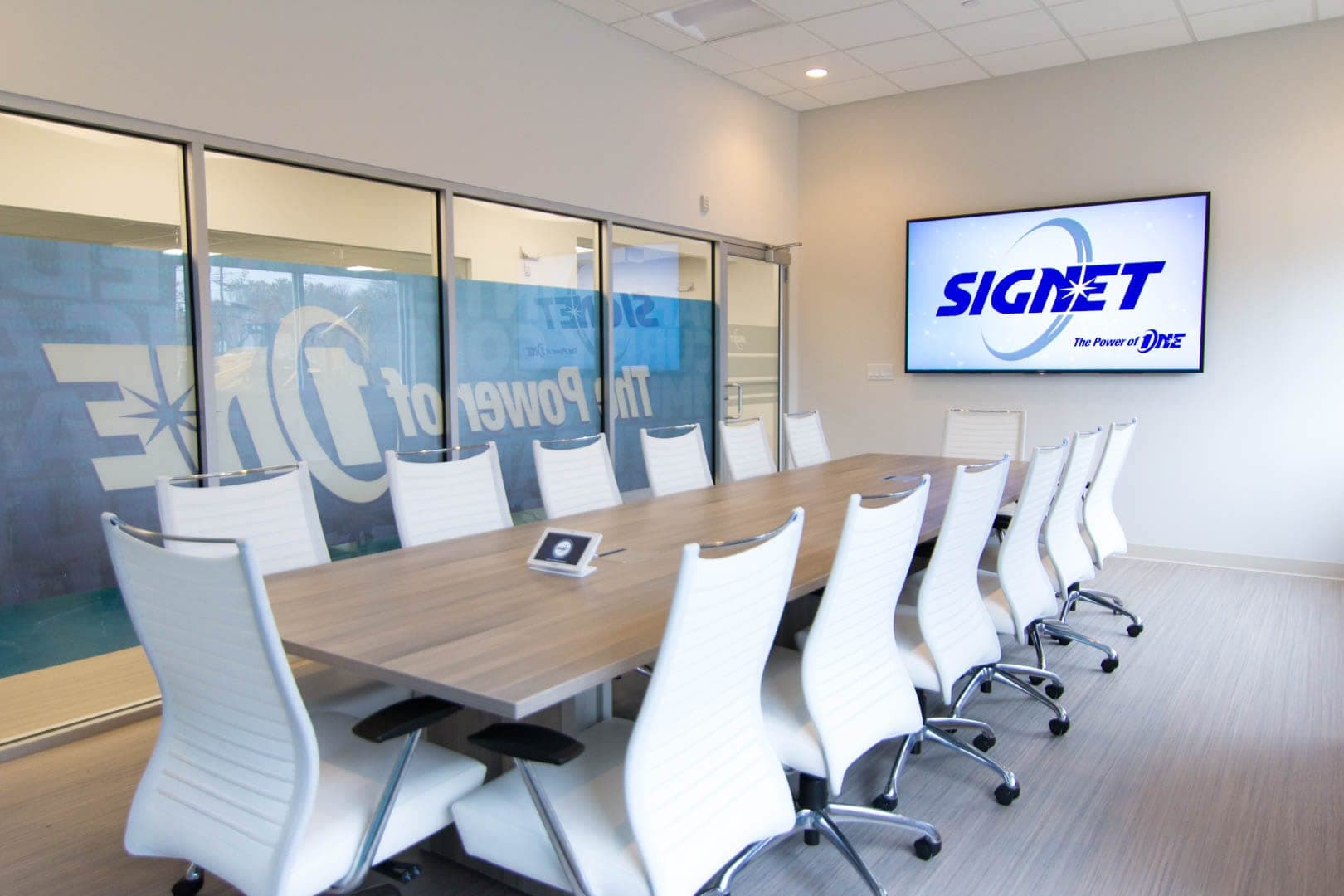 SIGNET Electronic Systems Relocates Corporate Headquarters
Norwell, MA–(April 11, 2017)–SIGNET Electronic Systems, Inc. is proud to announce the company's relocation to a new state-of-the-art headquarters. On April 6th, SIGNET moved to a completely renovated 26,500 square foot facility at 90 Longwater Drive in Norwell, Massachusetts.
SIGNET is currently the largest privately held systems integrator in New England with annual revenues approaching $40 million, 138 employees and satellite offices in Scarborough, Maine and East Providence, Rhode Island. SIGNET began as a four-man installation services contractor in 1974 and, since 1992, has tripled its workforce. Continued growth is anticipated.
In addition to the 700-plus projects the company already completes each year, SIGNET's increasing involvement in the transportation communication sector had recently brought a new sense of urgency to the need for the expanded facility. The added square footage provided by the new space will accommodate a greater number of engineers, production technicians and project managers as well as provide a 2,400 square foot area for production, assembly, testing and certification. A 14,000 square foot environmentally-controlled warehouse will provide the ability to properly receive, organize and stage project equipment.
Accommodating the company's ever-expanding project load and workforce were only a couple of the factors driving the relocation, however. SIGNET invests heavily in the wellbeing of its employees and is committed to providing a pleasant and enjoyable work environment. "To be an industry leader, we must be able to attract high energy, fresh, tech savvy talent," said SIGNET president and owner, Bradford S. Caron. "An environment designed around state-of-the-art technology and natural light, combined with amenities such as a lounge, café, outdoor patio, individual private lockers, and designer furniture is attractive to Generation X, millennials and Generation Z," Caron added.
SIGNET partnered with ArchDesign, Inc., a Massachusetts-based architectural design firm, and Callahan/Hoffman Company, Inc., a Massachusetts-based commercial construction company, to engineer and build out the $2 million renovation. "The project was handled on a design/build basis, which is very cost and time effective," said Garth Hoffman, president of Callahan/Hoffman Company. "We incorporated value engineering early in the design process to maximize the value of SIGNET's budget, creating a cost effective, yet new and modern, space in both the exterior finishes and mechanical systems," he added. SIGNET, ArchDesign, and Callahan/Hoffman approached the project as a team, all working toward the same goal, resolving any issues onsite, and making detailed decisions quickly and efficiently to keep the project moving.
The design thoughtfully reflects the openness of SIGNET's collaborative workflows, industry and culture, leveraging the use of windows and glass to "borrow" natural light. "We wanted the space to be open, bright, light, non-confining and collaborative," said Stephen E. Archibald AIA, president of Archdesign, Inc. "The industrial structure (circa 1980) was closed, low and dark when we started. So the key to the whole design was the careful alignment of floor-to-ceiling sidelight glass in every office with large exterior windows. If you are standing in the center of the building, you can see clear through two departments to the outside," added Archibald. In addition, two four-by-eight foot skylights were installed to provide natural light to the interior engineering area, and a sixteen-foot glass entrance tower was added to bring a new look to the building's exterior.
Color, high end finishes, and adaptive furnishings were used throughout the space contributing to the fresh, modern style. Light colors and accent walls brighten offices and create different areas of interest, while internationally recognized Knoll furnishings encourage movement and wellness using height-adjustable desks and adjustable designer chairs. "The single most requested feature is height adjustability—the ability to sit or stand while working at one's station or desk," said Rob Tenaglia, general manager and senior vice president of sales at Office Resources, SIGNET's chosen furniture partner. "The use of monitor arms, personal storage lockers and smart layouts allows employees to maximize their usable space," he added.
Andrew Pelletier, the director of project management for SIGNET, explained how SIGNET has worked diligently over the years to break down the natural silos that can develop between departments, and how that approach is echoed in the design. "In planning for the new office space, SIGNET reflected upon the lifecycle of a project across departments, then built out a space in which workflow and collaboration take a front seat," said Pelletier. Private lockers create spaces which maximize focus and productivity, but which still allow for organic communication and collaboration. Tiered ceilings, various floor coverings, and a full-coverage Cambridge sound-masking system manage sound control throughout the space.
With over 50 percent of SIGNET's team members working in the field and living across four states, the spirit of collaboration extends beyond the walls of the new office. One of the primary goals is to leverage technology to push collaborative meetings and information to field personnel, as well as to enhance teamwork at headquarters. The comprehensive audio-visual package includes Crestron touch panel control with SIGNET-branded graphical user interface for training and conference rooms, bring-your-own-device (BYOD) Skype support across multiple locations, and 4K monitors for presentation spaces. The 50-person training room includes a USB media bridge for audio/video recording capabilities, while strategically located digital signage enhances corporate communication by displaying topic-specific content in respective departments.
SIGNET incorporated a number of other class-leading, future proof building systems into the design in addition to the audio-visual package and the sound-masking system. The company installed a complete passive and active data infrastructure including a new data center with redundant firewalls, fiber connectivity, UPS backup and IP climate-control HVAC. The cutting-edge security package includes a unified IP access control and CCTV system and zoned intrusion detection system, which are anchored by the industry-leading Genetec platform. Access is both on premise as well as remote via app, while all entrances and the warehouse are covered by 4 megapixel high definition IP cameras and Bluetooth-enabled card readers. Finally, SIGNET installed exterior LED lighting, which is controlled via a networked lighting control panel for granular schedule and lighting scene control, and the company deployed an addressable fire alarm system throughout the building.
As a nationally recognized leader in systems integration, SIGNET has grown into this new space—an appropriately modern, technologically sophisticated work environment, which was designed and engineered to support the company's collaboration, efficiencies and growth. "SIGNET's new headquarters will support our current and future growth needs," said Caron. "This is a very exciting time."